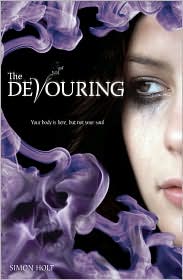 Summary:(from book jacket)
The Vours: Evil, demonic beings that inhabit human bodies on Sorry Night, the darkest hours of the winter solstice. When Reggie reads about the Vours in a mysterious old journal, she assumes the are just the musings of an anonymous lunatic. but when her little brother Henry, begins to act strangely, it's clear that these creatures exist beyond a madwoman's imagination, and Reggie finds out what happens when fears come to life. To save the people she loves, Reggie must learn to survive in a world of nightmares. Can she devour her own fears before they devour her?
Review: I liked this book. I don't read very much horror but I thought this book was really great. It was exciting, scary and entertaining. Of course it was a little bit slow at the beginning because a lot of it was the setup for the rest of the series. However, once Reggie and her friends fully believed in the existence of the Vours things picked up quickly. I found a few things to be predictable. My main problem was that it was a little bit hard to follow sometimes. At a few points in the story it was confusing as to what was going on. Other than that though I liked this book and am excited to read the rest of the series.
I liked the characters in the book as well. Reggie and Henry were both great characters, but i have to say my favorite was Aaron. He was so unique and cool and that really made him stand out. I also liked his and Reggie's fascination with horror stories.
Overall, this is a promising start to a new series. Lucky for me the next two books have already been released so I won't have to wait for the sequels (at least not yet). Anyone who wants to read a scary story should start here.