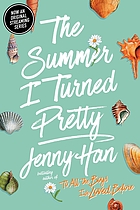 Summary (from back of book)
Some summers are just destined to be pretty. When each summer begins, Belly leaves her school life behind and escapes to Cousins Beach, the place she has spent every summer of her life. Not only does the beach house mean home away from home, but her favorite people are there: Susannah, her mother's best friend, and her sons, Conrad and Jeremiah. Belly has been chasing Conrad for as long as she can remember, and more than anything, she hopes this summer will be different. Despite distractions from a new guy named Cam and lingering looks from Conrad's brother Jeremiah, Belly's heart belongs to Conrad. Will he offer his to her? Will this be the summer that changes everything?
Review: I liked this book. I finished it in a day, I like books about summer and this one kept me hooked until the end. I don't even really know why. It wasn't particularly action packed or intense. The whole book was consumed by Belly's boy drama. It got kind of annoying after a while and I was glad that eventually there were other issues that became the focus of attention. There didn't seem to be any real meaning to the story. Hopefully, things will be a little more exciting in the sequel It's Not Summer Without You.
I didn't really like any of the characters in this book either. Belly was fun and exciting but after a while became mopey and annoying. Conrad's attitude had me against him from the beginning and wish Belly would like Jeremiah instead. He came across as being a lot more fun than his older brother. That was probably another reason I got so annoyed at Belly she's falling for the wrong guy. Cam was Mr. perfect goody two shoes and I didn't really like him either.
You're probably wondering why I mentioned at the beginning of this review that I liked this book. I did though,I liked the way there was a lot of back story about past summers spent at the beach. It really helped me to get to know the characters better. I also really enjoyed the relationship between Belly and the boys. The teasing and goofing off was really fun. Belly is treated like a little sister especially when she was younger. Another thing I liked was the way all the characters really loved the summer house. Even though things are changing they are determined to continue the tradition of going to the beach for the summer.
If you are looking for a light summer read pick this one up. It wasn't my favorite but, I liked it and hopefully I will enjoy the sequel even more.